BIO-BASED FOAM: ALL THE ADVANTAGES OF A SUSTAINABLE CHOICE.
An innovative, biodegradable, and recyclable material for the bedding and furniture sector.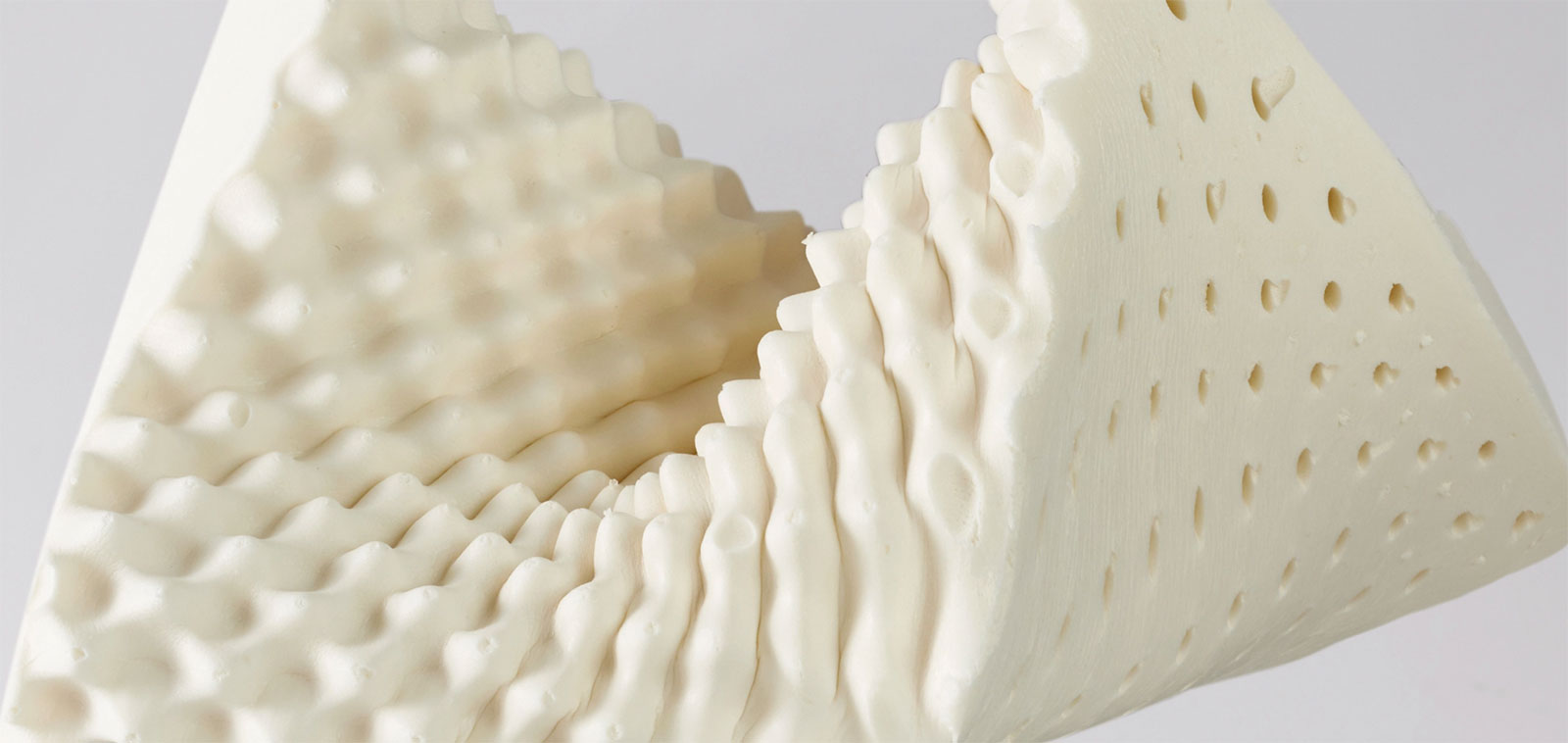 Bio-based foam, or biofoam in short, stands out as a truly innovative material. Regardless of the type – memory foam, visco-elastic foam, flexible foam to name a few – this ingredient has been playing a leading role in many sectors, including the bedding and furniture sector (for mattresses, pillows, cushions etc.), thanks to its many properties. 
But what is bio-based foam, exactly? 
It is the result of combining bio-based polyols and isocyanate together, which after being mixed go through a solidification process that looks very much like that of expanded polyurethane (PU). However, while bio-foam shares PU's making process, it is not, in fact, expanded polyurethane and the contrast lies in the prefix "bio", making all the difference in the world, and for the world. Unlike PU which is based on fossil raw materials (a finite source and resource), this type of foam is made from renewable sources, including bio-polyols derived from vegetable oils like soybean, castor, or palm – but the sky is the limit. 
One material, many opportunities.
All eyes are on bio-based foam with academic studies all over the world, particularly in the United Stated and in Europe, continuing to research the potential of this material which has been proven to have similar mechanical properties to petroleum-based foams. What this means is that several sectors are being provided with a viable alternative to non-sustainable foams. No matter the field, what stays the same is its natural origin and the biodegradable and recyclable properties ensuing from it, extremely important pluses for producers and brands alike looking to reduce their environmental footprint to meet customers' demands for high-quality, consciously made products.
Bio-foam's horizons are expanding. 
Bio-based industry is a truly thriving market. Data gathered and analyzed by Markets and Markets shows that the global market for bio-based foam is projected to reach $229 million by 2027, at a Compound Average Growth Rate of 23.1%. Driving this growth are mainly U.S. and Europe-based companies from sectors as home textiles, aerospace insulation, automotive, packaging, footwear – even marine components.
This trend is also confirmed by the latest United States Department of Agriculture (USDA) report which shows that the bio-based product industry has a positive impact on the economy of the country, with 1.65 million jobs directly supporting the sector, and another 2.96 million spillover jobs. Environment-wise the report demonstrates that bio-based products can reduce greenhouse gas emissions by an estimated 12.7 million metric tons of CO2 equivalents per year. A win-win. 
Switching to bio-based foam to expand business. 
Bio-foam makes sense for the environment just as it does for prospect producers – including those in the bedding and furniture sector – seeking to insource their manufacturing processes with the goal to differentiate themselves in the market and appeal to environmentally conscious consumers. When it comes to optimizing processes, high-quality material can certainly be provided by reliable third parties, but by choosing technical partners that can grant the autonomy of first-rate in-house production through machinery-related expertise coupled with extended chemical know-how, one can provide customers with unmatched service, quality, and costs. 
All the advantages of in-house production.
So, what are the advantages of in-house production? 
a reduction in supply chain steps;
lower transportation operations which have a high impact on a company's carbon footprint, as well as lower costs;
just-in-time manufacturing, which means that products are created to meet demand and not in advance, preventing storage issues and reducing fire hazards (it's the case of batchblock production);
a reduction of waste management costs thanks to bio-based foam recyclable properties.
In a nutshell, in-house production grants total autonomy over quality, processes, times, and quantities.
Recipe for success.
The freedom of in-house manufacturing starts at a chemical level – deciding even on which bio-polyols to use – and the versatile nature of this ingredient means that every recipe is one-of-a-kind, different from the next one. When it comes to specialty foams – for footwear and bedding and furniture sectors – there are plenty of different varieties and densities to choose from, with higher densities offering several benefits, such as improved comfort and durability.  But that's not all. One can also choose between open-cell foam and closed-cell foam with the former providing a softer as well as a more flexible structure. In fact, the airy structure of open-cell bio-foam has high breathability properties which account for an improved sleeping experience, making it the go-to option in the bedding sector.
Bio-foam customization: to each its own.
When the more technical aspects are sorted out, the fun begins with customization: that's where bio-foam truly shines (figuratively, and, if needed, also literally).
Bio-based foam lends itself to advanced levels of personalization, down to the smallest detail. The visual aspect plays an important role in making the product stand out or simply in meeting customer needs and requirements which can involve any color – yes, even sparkly glitter – and can be mixed with essences to make the end user's experience just that unique. It can even be infused with gel for a cooling effect.
When it comes to customization you are spoilt for choice which makes this ingredient that much more interesting to the eyes of end users. 
What Brighi brings to the table. 
"We are very committed to this innovative material and its applications in the bedding and furniture industry", states Alessio Brighi, Brighi CEO "the possibilities are limitless, and Brighi's machinery and technology for in-house batchblock production of bio-based foam can really help take processes to the next level thanks to cutting-edge innovation such as the Brighi discontinuous foam line. We make a point of going the extra mile for our customers, hence our collaboration with outstanding chemical partners to provide them with the best level of expertise and offer. Innovation and sustainability are two important aspects that producers need to start thinking about if they want to stand out in the market whilst championing a responsible approach to production, Brighi can support them and help them get there."